Overview
Overview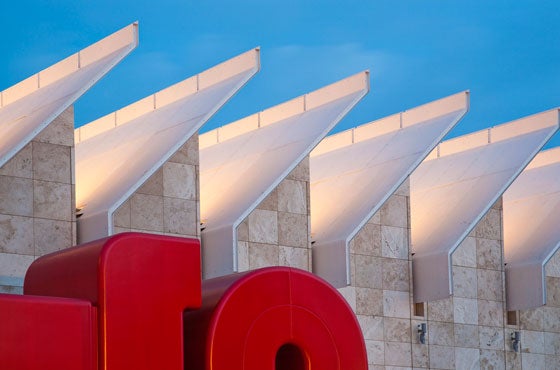 Mission Statement | History | Board of Trustees | Executive Staff | Corporate Governance
With 100,000 objects dating from ancient times to the present, the Los Angeles County Museum of Art (LACMA) is the largest art museum in the western United States. A museum of international stature as well as a vital part of Southern California, LACMA shares its vast collections through exhibitions, public programs, and research facilities that attract nearly a million visitors annually.
LACMA's seven-building complex is located on twenty acres in the heart of Los Angeles, halfway between the ocean and downtown. The campus is undergoing a ten-year expansion and renovation known as the Transformation and designed by the Renzo Piano Building Workshop.
LACMA's collections encompass the geographic world and virtually the entire history of art. Among the museum's special strengths are its holdings of Asian art, housed in part in the Bruce Goff-designed Pavilion for Japanese Art; Latin American art, ranging from pre-Columbian masterpieces to works by leading modern and contemporary artists including Diego Rivera, Frida Kahlo, and José Clemente Orozco; and Islamic art, of which LACMA hosts one of the most significant collections in the world.
In April 2006, Michael Govan became CEO and Wallis Annenberg Director of LACMA. Formerly president and director of Dia Art Foundation and deputy director of the Solomon R. Guggenheim Museum, Mr. Govan is the seventh director in LACMA's forty-six-year history.
Mission Statement
To serve the public through the collection, conservation, exhibition, and interpretation of significant works of art from a broad range of cultures and historical periods, and through the translation of these collections into meaningful educational, aesthetic, intellectual, and cultural experiences for the widest array of audiences.
LACMA has its roots in the Los Angeles Museum of History, Science and Art, established in 1910 in Exposition Park. In 1961, the Los Angeles County Museum of Art was established as a separate, art-focused institution. In 1965, the fledgling institution opened to the public in its new Wilshire Boulevard location, with the permanent collection in the Ahmanson Building, special exhibitions in the Hammer Building, and the 600-seat Bing Theater for public programs. 
Over several decades, the campus and the collection have grown considerably. The Anderson Building (renamed the Art of the Americas building in 2007) opened in 1986 to house modern and contemporary art. In 1988, Bruce Goff's innovative Pavilion for Japanese Art opened at the east end of campus. In 1994, the museum acquired the May Company department store building at the corner of Wilshire and Fairfax, now known as LACMA West.
Most recently, the Transformation project revitalized the western half of the campus with a collection of buildings designed by Renzo Piano Building Workshop. These include the Broad Contemporary Art Museum, a three-story 60,000 square foot space for the exhibition of postwar art that opened in 2008. In fall of 2010, the Lynda and Stewart Resnick Exhibition Pavilion opened to the public, providing the largest purpose-built, naturally lit, open-plan museum space in the world, with a rotating selection of major exhibitions. Ray's restaurant and Stark Bar opened in 2011, invigorating the central BP Pavilion near Chris Burden's iconic Urban Light.
The LACMA campus continues to evolve in order to present an encyclopedic collection of art, special exhibitions, and music, film and educational programs.
Co-Chairs of the Board
Andrew Gordon
Terry Semel

Vice Chairs
William H. Ahmanson
Willow Bay
Robert Kotick
Lynda Resnick
Tony Ressler   

Trustees
Wallis Annenberg
Mark Attanasio
Frank E. Baxter
Colleen Bell
Dr. Rebecka Belldegrun
Nicolas Berggruen
David C. Bohnett
Suzanne Deal Booth
Brigitte Bren
Eva Chow
Ann Colgin
Janet Crown
Kelvin Davis
Kelly Day
Joshua S. Friedman
Gabriela Garza
Tom Gores
Brian Grazer
Brad Grey
Ghada Irani
Victoria Jackson
Suzanne Kayne
Lyn Davis Lear
Bryan Lourd
Michael Lynton
Robert F. Maguire III
Jamie McCourt
Richard Merkin M.D.
Heather Mnuchin
Wendy Stark Morrissey
Jane Nathanson
Peter Norton
Geoffrey Palmer
Viveca Paulin-Ferrell
Anthony N. Pritzker
Janet Dreisen Rappaport
Edward P. Roski, Jr.
Steven F. Roth
Carole Bayer Sager
Florence Sloan
Eric Smidt
Michael G. Smooke
Barbra Streisand
Sandra W. Terner
Steve Tisch
Casey Wasserman
Elaine Wynn
Dasha Zhukova


Life Trustees
Daniel N. Belin
Mrs. Lionel Bell
Donald L. Bren
Eli Broad
Robert A. Day
Camilla Chandler Frost
Julian Ganz, Jr.  
Mrs. Dwight M. Kendall
William A. Mingst
Mrs. Lillian Apodaca Weiner
Walter L. Weisman

 
Michael Govan, CEO and Wallis Annenberg Director
John Bowsher, Vice President of Museum Infrastructure
Jane Burrell, Senior Vice President of Education and Public Programs
Fred Goldstein, Vice President, Administration, General Counsel and Secretary
Terry Morello, Vice President of External Affairs
Ann Rowland, Chief Financial Officer
Nancy Thomas, Deputy Director for Art Administration and Collections
Per the Los Angeles County Code and various operating agreements, Museum Associates, a nonprofit public benefit corporation organized under the laws of the state of California, manages, operates, and maintains the Los Angeles County Museum of Art (LACMA). Museum Associates, dba Los Angeles County Museum of Art, is governed by a Board of Trustees which sets policy and determines the museum's strategic direction. Museum Associates is an exempt organization under section 501(c)(3) of the Internal Revenue Code and is classified as a public charity under section 509(a)(2) of the Internal Revenue Code. Donations to Museum Associates (LACMA or Los Angeles County Museum of Art) are deductible under Section 170 of the Code, to the extent permitted under applicable law.
Various documents relating to LACMA's corporate governance are included below:
Goals
Organizing Documents
Articles of Incorporation (PDF | 153kb)
Bylaws (PDF | 68kb)
IRS Determination Letter 2007 (PDF | 210kb)
Financial Information
990 and 990T Returns (PDF | 1mb): As an exempt organization, LACMA must file forms 990 and 990T tax returns with the IRS each year. The 990 information return provides financial as well as operational information about our programs and activities. Through Schedule O of the return, LACMA provides answers to various IRS questions about how we operate, our policies and procedures, and explanations of the changes in revenues and expenses from the previous year. For example, in fiscal year 2012, Part I of the 990 shows a deficit of $31,284,369. In Schedule O, we point out that this number reflects $14,334,410 of bond interest, fees, and amortization costs which were more than covered by cash payments on outstanding gift pledges, $12,901,282 of art purchases made with funds in-hand from prior fiscal years, and $7,889,870 of depreciation expense which is a non-cash accounting charge. Without these items, line 19 would show a surplus of $3,841,193. We also note that the regular operating budget of the museum actually had a surplus of $3,484,643 for the fiscal year. The 990T is our exempt business income tax return.
Audited Financial Statements
FY 2013
Museum Associates (PDF | 183kb)
Museum Associates and County of Los Angeles (PDF | 111kb)

FY 2012
Museum Associates (PDF | 304kb)
Museum Associates and County of Los Angeles (PDF | 128kb)

FY 2011
Museum Associates (PDF | 212kb)
Museum Associates and County of Los Angeles (PDF | 123kb)
Policies
Whistleblower Policy (PDF | 40kb)
Conflict of Interest Policy (PDF | 19kb)
Policy on Review of Executive Compensation (PDF | 14kb)