Members
Membership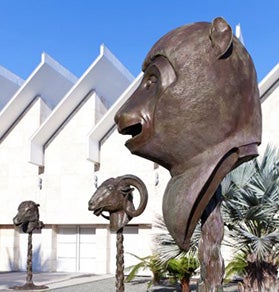 Ai Wei Wei
Students discover how art can tell stories about different people, times, and places, and learn how the basic elements of art create a visual language. Art Tells a Tale encourages observation skills while enhancing vocabulary and oral-presentation skills. This tour is aligned with state content standards for history/social science for grades 2 and 4 and language arts for grades 2.
See It First
Ticketing for Calder and Abstraction is now open.

Student- and Individual-level members receive one free ticket, Dual-level members and above receive two free tickets.
Friend-level and above members may return for free, with reservations.
Discounts
Members receive discounted enrollment in art classes—a new series of studio and gallery sessions begins in January.

Art Courses include costumed figure drawing, printmaking, mixed media, and more.


Members Only
Member Mondays: Extended evening hours for select exhibitions exclusively for LACMA members.
On view December 16:
Member's Guide to James Turrell: A Retrospective