LACMA9: Artist Collaborations
LACMA9 Art+Film Lab—Artist Collaborations
The LACMA9 initiative not only provides opportunities for the community to utilize technology for expression, it supports established and emerging artists through commissioning new work, including projects by Jorge Pardo and Nicole Miller.
---
Jorge Pardo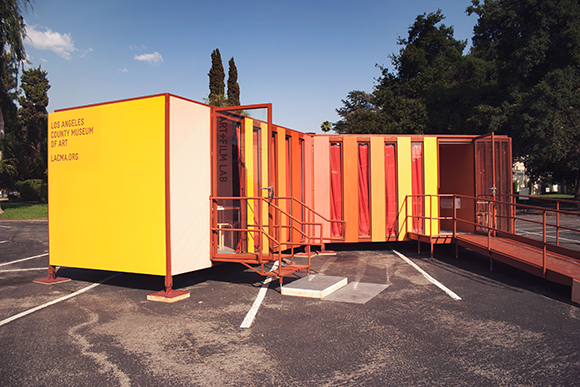 In winter 2013, LACMA commissioned Jorge Pardo to design and fabricate the LACMA9 Art+Film Lab, a functional arts environment that houses workshop space, an editing lab, and oral history booth.  Known for blurring the lines between architecture, design, and sculpture, Pardo reimagined the standard shipping container in three interlocking parts made of reinforced steel, Plexiglas, and plywood.  Since June 2013 the colorful structure, which includes custom-made curtains and lighting, has traveled along the LACMA9 route serving as a pop-up artwork and functional classroom.
 
Examples of Jorge Pardo's design work can be found in LACMA's Pre-Columbian Galleries, as well as the café in Leipzig Messe (Germany) and a restaurant for the K21 Museum. His artwork is part of numerous public collections, including Museum of Contemporary Art, Los Angeles; Museum of Modern Art, New York, and Tate Modern, London.
Pardo lives and works in Los Angeles and Merida, Mexico.

Image: LACMA9 Art+Film Lab, 2013 © Jorge Pardo Sculpture, photo © 2013 Museum Associates/LACMA.
---
Nicole Miller
Using oral histories gathered at the LACMA9 Art+Film Lab as a departure point, installation artist Nicole Miller will follow up with select residents along the LACMA9 route to create new video works. The series, titled Believing is Seeing, comprises video portraits offering a distinctive and intimate glimpse into lives of Southern Californian's. Miller's project mines "stories that residents feel deserve to be told" about their lives and communities. "I believe that the stories individuals choose to present are a great signifier of the values of a community."
View these collaborative works at the museum on special free days at LACMA for each community. Above is the latest installment of the Believing is Seeing series. At the project's conclusion, there will be nine videos, one representing each LACMA9 site.
 
Miller received her M.F.A. from the University of Southern California.  Her work has been shown at Hammer Museum, Los Angeles; High Line, NYC; and the Studio Museum in Harlem.